Welcome to Our Service Department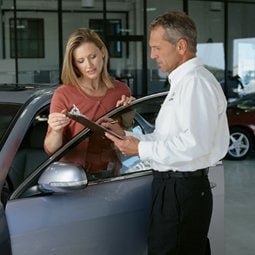 ATTENTION: OUR ON LINE SERVICE SCHEDULING ONLY ACCOMMODATES NON-MAINTENANCE TYPE JOBS. ALL TIRE OR OIL WORK IS DONE THOUGH OUR QUICKLANE WHERE NO APPOINTMENT IS NECESSARY.  
WHEN SETTING AN ONLINE APPOINTMENT FOR OTHER WORK, PLEASE REALIZE THAT YOUR VEHICLE MAY NOT BE PUT INTO THE SHOP IMMEDIATELY. DURING THE INITIAL PHASE OF THE ONSITE APPOINTMENT, OUR SERVICE TECHNICIANS WILL EVALUATE AND WRITE UP THE VEHICLE. AT THAT TIME, THEY WILL BE ABLE TO ASCERTAIN WHEN THE VEHICLE WILL GO INTO THE SHOP AND RELAY THAT INFORMATION DIRECTLY TO YOU. TIME VARIES BECAUSE OF SHOP CAPACITY AND THE WORK TO BE DONE. THANK YOU FOR YOUR PATIENCE, AND FOR TRUSTING BUTCH OUSTALET WITH YOUR AUTOMOTIVE NEEDS.